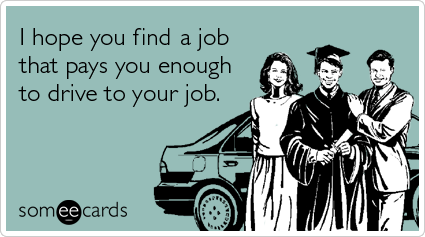 It seems I've been constantly applying for jobs for the last year.  It seems that way because I have been.  Because of the short length of internships (and those internships not turning into full-time jobs in the near term) and the timeframe it takes to find employment, I have had to begin my job search almost immediately after starting internships last summer, fall, and spring.  I've seen and filled out as many types of applications that exist, and there are several ways to make things easier for job applicants.
Before I list these ideas, I understand that a lot of organizations and HR departments are overwhelmed with resumes and that hiring software is a work-in-progress.  Now that I have that disclaimer out of the way, here's how employers can make things easier for those of us going through a stressful ordeal:
Stop making me fill in the same thing twice. I don't mind having to send in resumes and cover letters to an email address.  I don't like it when I go through an application web site where they ask me to upload a resume and cover letter and insert all of my resume information into empty fields on the online resume.  While we're at it, if you have me upload/copy & paste a resume and extract that information into the empty fields automatically, tell me how to format my resume so it does so correctly.
Use LinkedIn so I don't have to fill in my resume.  I once started to apply for a grant writing job for a nonprofit in Florida that was listed on LinkedIn.  Instead of being able to use my LinkedIn page, or even just send in my resume, they use their own application form in a Word doc that screwed up the formatting every time you typed a letter.  I didn't even bother finishing the form, becoming so frustrated after entering my address.  Why go through this cumbersome process when I found the job on a credible job web site like LinkedIn?
Include a hiring timeframe in the job notice, even if it is a broad range, and stick to it.  I understand that organizations have a timeframe to hire a new employee, and that the timeline can be altered for a number of reasons.  However, it would be nice if there could be something like, "If you don't hear from us in 4-6 weeks, you will not be considered for the position unless otherwise notified."  Basically, it makes sure the applicant isn't left in limbo and gives the employer some wiggle room.
The employer has to follow up with a yes or no.  If the federal government can do this with USAJOBS, then surely other entities with online application systems can as well. 
The employer has to follow up after any type of interview – If it is common courtesy to send a "thank you" to the employer after an interview ("Thank you for asking me the same questions I've heard on every other interview."), then the employer should be required to follow up.  It's only happened once, but after a phone interview with a mid-Atlantic city government that I thought went pretty well, and a follow up by email by me, I received no response.  It's been six weeks.  Are we still dating?  If I prepared and fretted for a week, and I actually spoke to a real person, can I get a "hell yeah" (or a "hell naw")?
I think some more consideration of job applicants would make the process less annoying. If employers can take advantage of a centralized system (socialism!) if they use an online system (as opposed to emailing your resume/cover letter as an attachment), not have us put in the same thing twice, and actually respond, then it'll make the monotony and wait a little more palatable.